Vol. 5 (2015)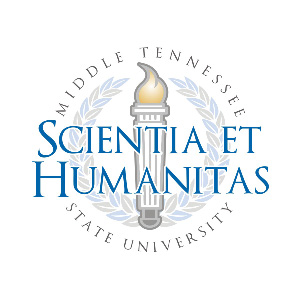 An undertaking on the order of a peer- and faculty-reviewed journal always results from a team effort. Scientia et Humanitas, the academic journal of student research at Middle Tennessee State University, is no exception. A team of student authors, peer reviewers, copyeditors, and administrators collaborated to produce the volume you hold in your hands. We are proud of this collective effort not only because it represents some of the finest scholarship MTSU students have produced in academic year 2014-2015. This edition of Scientia only came together because each person contributed her/his diligent work toward a combined periodical that we can be especially pleased to present to the faculty and student body of this institution.
Our student writers have achieved an important distinction as published authors in a journal that follows the same rigorous process as other more notable journals in the various disciplines: calls for papers, submissions, peer review, revision, faculty review, copyediting, awards, layout, and eventual publication. This year, our staff tried hard to include academic fields heretofore underrepresented in the journal, hence the variety of articles, ranging from Thomas Kyd's The Spanish Tragedy to Carl Jung to Tay-Sachs disease. Each of the individual author's names accompanies her/his essay. We salute these scholars for their outstanding writing.
Two essays have merited special mention as winners of the Dean's Distinguished Essay designation. Joseph Meyer's excellent essay "Ethnic Conflict in the Former Soviet Union: Ethnic Demography and Its Influence on Conflict Behavior" is excerpted from a longer piece he wrote as an undergraduate student. His level of sophisticated analysis shows tremendous scholarly acumen. I am honored to present my light-hearted piece "'Oh, Terrible, Windy Words': Witty Wordplay in Jonson's Poetaster," in which I attempt to add "linguist" to the many distinctions earned by English playwright Ben Jonson.
The team who deserves the most credit for this journal is our staff. Their work soliciting submissions, reading essays, responding with cogent comments, and poring over sentences for grammatical accuracy is nothing short of exemplary. This year's Scientia staff includes the following hard-working individuals: Arlo Hall, Katherine Estes, Aaron Shapiro, Dennis Wise, Margaret Johnson, Rachel Donegan, Jacquelyn Hayek, Joseph Mosqueda, Chelsea Harmon, Courtney Wright, and Nausheen Qureshi.
A team of administrative staff leads this journal. Dr. Philip E. Phillips, associate dean of the Honors College and professor of English, gives estimable oversight to Scientia, ably assisted by Marsha Powers, coordinator of special projects and publications for the Honors College. The faculty reviewers for this volume include Dr. Vile, Dr. Phillips, Dr. Sieg, Dr. Gebert, and Dr. Shi. We wish to thank them for their meticulous reading of these submissions.
Finally, I would like to thank personally our managing editor, Morgan Hanson. She has kept this journal on schedule, communicating with authors and reviewers consistently throughout the process. As well, she is responsible for designing the look of the journal's pages. She is a spirited, enthusiastic colleague and friend.
I have thoroughly enjoyed serving on the Scientia staff for the past two years. As I look back on my time in graduate school at Middle Tennessee State University, many fond memories are attached to this journal. With the present team in place, the future of Scientia et Humanitas looks very promising.
Warm regards,
Clint Bryan
Editor in chief
Full Issue